Dolls in Honiton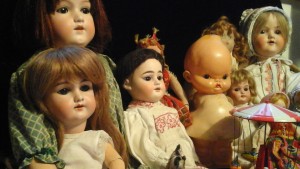 You can now see a display of some beautiful collector dolls in 'Little Gem Antiques' at Honiton High Street.
If you can make it along you will see a full set of the famous 'Dionne quintuplets' from Canada, along with their original playthings from 1936. There is a fascinating story attached to the quintuplets along with the display.
A large 27″ German doll from the 'George Borgfeldt' firm. She is particularly beautiful dressed in appropriate reproduction clothes.
An Armand Marseille 'Floridora' in fine condition and in original underclothes.
An Armand Marseille '1894' from the famous 'Musee de Poupee' in Paris. Dressed in original clothes, dated ca:1910.
An English 'pot head' boy doll from ca 1940 with his original dungarees.
Along with  paper dolls and a mixture of other interesting doll related pieces.
Do visit if you are in the area. Honiton is just off the M north of Exeter. It is well known as an antiques and collectables centre.
All dolls on display are also for sale.